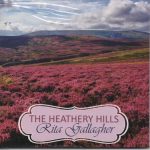 Rita Gallagher
The Heathery Hills

TG4's Gradam Ceoil 2017 Singer of the Year: Rita Gallagher

She is a native of Ballymacahill near Frosses in South West Donegal and now lives in Crossroads, Killygordon in the east of that county, an area where there is still a vibrant tradition of music and song.
Citation
Upon hearing this distinctive traditional singer, one is immediately aware one is listening to a vocalist of incredible ability. Her mastery of tone, breath, and ornamentation, coupled with her extensive knowledge and understanding of songs, from her native South Donegal and beyond, leave one in no doubt that one is truly in the presence of greatness. A three-time winner of the Comhaltas All-Ireland title for female singing in English, her extensive repertoire contains many exceptionally challenging songs, all of which she makes sound effortless.
Small wonder then that there were no less than 37 songs on her 2010 release The May Morning Dew which garnered much praise, and an award from LiveIreland.com
Her humility belies a serious talent, and through her generosity of spirit she has been a great influence on many singers, both through her recordings, and her popular singing workshops at festivals around the country.
This year's Gradam for Amhránaí na Bliana (Singer of the Year) goes to RITA GALLAGHER
Biog
She is a native of Ballymacahill near Frosses in South West Donegal and now lives in Crossroads, Killygordon in the east of that county, an area where there is a vibrant tradition of music and song.
Rita grew up in a musical family of singing parents and siblings, and she took naturally to singing although it was only in her 20's that she began to take a deep interest in traditional singing. She got to know many fine local singers and was particularly influenced by the late Paddy Tunney, and this is reflected in her broad repertoire which includes many big and complex songs.
Singers often refer to Rita as a hidden treasure, and she is highly regarded as one of Ireland's most accomplished and inspirational singers whose vocal mastery and technique allow her to tackle the most challenging songs with ease.
A three-time winner at Fleadh Cheoil na hÉireann, Rita is a popular figure at festivals, singing weekends and workshops where her easy, gentle style draws people into the songs.
In 2010, Rita released a CD called The May Morning Dew, and this contains 20 songs in English plus a further 17 songs that she had released some years previously in 1997 on cassette called Easter Snow.
Also available from Copperplate Rita Gallagher The May Morning Dew
Audio
Track 1: Lone Shanakyle
Track 2: The Heathery Hills
Track 3: Molly Ban A Stor
Track Listing
Lone Shanakyle
The Lowlands of Holland
An Bunan Bui (The Yellow Bittern)
Erin's Green Shore
The Bay of Biscay/Sweet Williams Ghost
The Hero from Bonny Carlow
Early Early/The Croppy Boy
On The Banks of the River
Lament to the Moon
The Heathery Hills
Molly Ban A Stor
The Buachaill Roe
Press Reviews
www.livingtradition.co.uk   REVIEW
Donegal native Rita, though possessor of three All Ireland singing titles between 1979 and 1982, has only rarely appeared on record, which I find puzzling, especially considering the extent of her repertoire. Both of her previous releases – the cassette Easter Snow (1997) and CD The May Morning Dew (2010) – provided a persuasive demonstration of Rita's special way with a song, so I was doubly delighted to receive this new collection. The Heathery Hills is beautifully packaged, as befits the quality to be found within, and presents a dozen songs from Rita's ever-expanding repertoire, with no instrumental accompaniment. Not that any is needed.
Rita's voice is not one that deliberately calls attention to itself per se, ostentatiously either through over-personification or through overt display of technique. However, the listener will quickly fall under the spell of the distinctive internal rhythm of her singing style, which is allied to her remarkably natural use of controlled ornamentation in the unconstrained and highly individual delivery of a melodic line. Interestingly, it's for this reason (or maybe in spite of it) that the tune element is often first to make an impression, its contours drawing the listener in to the story being told. Rita has herself said that "in about 90% of all cases, the tune of a song is what attracts me to it initially", which may sound something of a paradox when, after all, the words of a song are judged its raison-d'être. Yet it's almost certainly the ornate beauty of the tune, and Rita's wonderful way with it, that first draws you in. Take The Lowlands Of Holland for instance, a song we all know, but one which here doesn't provoke the "not again!" reaction, simply because Rita makes it so much her own with her thrilling and understanding delivery and her telling incorporation of variant components (all such matters being explained in the excellent booklet notes). It's a good example of the care Rita takes with the songs, to present them at their best and most persuasive in her role as song carrier.
The Heathery Hills focuses to a lesser extent than its predecessors on songs learnt from the Tunney Family, although Brigid Tunney (Paddy's mother) is the source for the title song, and her granddaughter Brigid Tunney is the source for both The Buachaill Roe and Early, Early (a version of The Croppy Boy). Coincidentally, two of the standout renditions on this disc are of songs which Rita learned from Sean Cannon: The Bay Of Biscay and The Yellow Bittern. The gorgeous Lament To The Moon comes from Packie Byrne, while the plaintive The Hero From Bonny Carlow (from Paddy Berry) is unaccountably less well-known. But whatever the sources, this is another grand collection of songs. The steadfast, serene consistency of Rita's singing style, which in a lesser singer might be counted a drawback, is here a distinct advantage, a shining example of Rita's artistry in bringing the songs to life in her own inimitable way. This is a tremendously satisfying, and most treasurable, CD. David Kidman
People who bought this item also bought