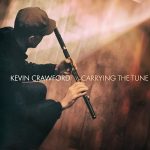 Kevin Crawford:
Carrying The Tune
(new cover)
Musicians -
Kevin Crawford - Flutes and whistles
John Doyle - Guitar and bouzouki
Brian Morrissey - Bodhran
Mick Conneely - Bouzouki
Audio
McHugh's:
Naughton's:
The Arra Mountains:
Track Listing
McHugh's / Michael Murphy's / Humours of Tullycrine. (reels)
La Ollámh / Lucky Lucky Day. (slip jigs)
Autumn Apple's Cormac Olunny's / Paddy Sean Nancy's (reels)
Flatwater Fran / Mrs Jean Campbell BSC. (waltz's)
John McKenna's / The Jointure / The Smithstown Jaunt, (jigs)
Queen of May / Tom Dowd's Favourite / Naughton's. (hornpipe/reels)
The Dear Irish Boy / The Hole in the Boat / Sally Sloane's. (slow air/jigs)
The Arra Mountains / Hunting the Hare / Petko. (slip jigs/horo)
Taylor's Fancy / Tanglony / Willie Clancy's, (slides/single jig)
Repeal the Union / The Ivy Leaf / The Hut in the Bog. (reels)
Delia the Diamond / Princess Potty / The Girl for Me. (jigs)
The Mountain Lark / Jack in the Box. (reels)
Ray's Revenge / The Hula Hoop, (jig/reel)
Ag Taisteal Na Blarnan (Travelling through Blarney) / Come West Along The Road, (slow air/reel)


REVIEWS

www.folking.com web site 9.17
Carrying The Tune is the third solo album in the extensive discography of the critically acclaimed flautist Kevin Crawford, and accompanied by bouzouki (Mick Conneely and John Doyle, guitar (Doyle) and bodhrán (Brian Morrissey), it is immersed, as ever, in the sounds of Celtic tradition, displaying Crawford's virtuosity at every opportunity. Indeed, such prowess makes it a rather difficult task to pinpoint the album's standouts, without overlooking what else the record has to offer, therefore (particularly for those who are unfamiliar with the work) it may be more useful to provide a brief rundown of the album as a whole.

'The Clare Connection' opens the record, (a set of reels fusing 'McHugh's/Michael Murphy's and Humours Of Tullycrine' together and featuring Crawford on Eb flute) followed by slip jigs (collectively titled '2 Days'), before another set of reels are introduced in the form of 'Autumn Apples/Cormac O'Lunny's and Paddy Sean Nancy's'. Phil Cunningham's beautiful 'Flatwater Fran' next kicks off a set of waltzes, which (like track two's slip jigs) showcase Crawford on flute as well as whistle. The second waltz of the set, 'Mrs Jean Campbell BSC', was written by Rory Campbell, giving Crawford's piece its title, 'Phil And Rory's'

From here, boisterous jigs and beautiful reels lead the way to the haunting air, 'The Dear Irish Boy', which follows into the steady guitar of John Doyle and the double tracked flute of Crawford, in the selections which make up 'The Slippery Slope'. An interesting change of pace is brought about through 'Tanglony', with Crawford, this time, opting for the D whistle, and Doyle accompanying him on bouzouki. The next pocket of selections are bookended with reels; 'The Ivy Leaf' and 'The Mountain Lark', with a collection of jigs, titled 'Chapter 3', sandwiched in between. Next up, it is an original, titled 'The Hula Hoop', that twists, turns and leads us to slow air 'Travelling Through Blarney' and 'Come West Along The Road' (collectively titled 'Travelling West') to bring the album to an atmospheric conclusion.

For fans of the Irish traditional/ Celtic music scene, you will, no doubt, be familiar with Mr Crawford's output, either through his solo work, or through his recordings with Lúnasa, Cillian Vallely or Moving Cloud, but you may not be so familiar with this album; self-released originally in 2012 on BallyO Records, it has been out of print the last few years, but thanks to Brooklyn Boy Records and Copperplate Distribution, it is released, once again, in all of its glory. Christopher James Sheridan
Lunasa flute player releases new solo album
Carrying The Tune is the latest solo album by Kevin Crawford. A member of the internationally acclaimed traditional Irish music group Lunasa, the ace flautist and whistle player has taken time out from his busy touring schedule with the band to record this new disc in West Clare. The album also features John Doyle on guitar and bouzouki, bodhran player Brian Morrissey plus Mick Conneely on bouzouki. Recorded by Martin O'Malley at Malbay Studios, Carrying The Tune contains fourteen tracks and is a joyful romp through an eclectic yet seamless collection of tunes that are sourced from both the deep well of tradition and from more recent compositions by the likes of Paddy O'Brien, Donal Lunny, Maurice Lennon and Crawford himself.
Born in Birmingham, England to parents from Miltown Malbay, Co Clare, Kevin Crawford's early life was sound-tracked by the resonance of the lively traditional music scene in the midlands city. Moving to Co. Clare in 1989, he soon became a pivotal member of the effervescent session trail in the Banner county before enhancing his burgeoning reputation in the group Grianan and the trio Raise the Rafters. He then propelled himself to international recognition with Moving Cloud, with whom he recorded Moving Cloud in 1995 and Foxglove in 1998. Kevin joined Lunasa in January 1997 for a tour of Australia and has been ever-present in the group since. To date, the instrumental quintet have eight albums to their credit while Kevin has released two solo records, V Flute Album (1994) and In Good Company (2001). He joined fellow band member, piper Cillian Vallelly for a critically acclaimed duet album, On Common Ground, in 2009. The innovative flute player has appeared as a guest on several albums, including singer Sean Tyrrell's Cry of a Dreamer (1994) accordionist Joe Derrane's The Tie That Binds (1998). and American singer-songwriter Natalie Merchant's 2010 release, Leave Your Sleep.
A year earlier along with his four fellow members of Lunasa, he performed on The Leitrim Equation. One of Kevin's latest side-projects is the formation of a new super-trio, The Teetotallers alongside John Doyle and fiddler Martin Hayes. They have an Irish nationwide tour mid January 2012.
The music on Carrying The Tune is loving embraced and made anew through the mastery of Crawford's technical prowess in conjunction with an informed passion for tradition. The overall result is an exuberant celebration of Irish music in its most innovative form. With sympathetic and inventive accompaniment by Doyle throughout and occasional contributions by Conneely and Morrissey, Crawford's flute and whistle playing creates inspiring music that's full of surprises sophisticated and completely accessible all at once.
Also available from Copperplate BOR 001 Kevin Crawford & Cillian Vallely: On Common Ground
Press Reviews
TRADCONNECT
The virtuoso flute and whistle player Kevin Crawford has gifted us once again with a superb exposition of the finest in flute and tin whistle playing with his latest solo album 'Carrying the Tune'. His last solo album was entitled 'D' flute album (1994) so perhaps it is no coincidence that this latest album now features Eb, C and Bb flutes.
The album comprises 14 tracks, each containing lesser known tunes (the Hula Hoop reel anyone?) that now demand to be added to the common repertoire. Reels, jigs, airs, horos (yes I said horos) and self-compositions make up the tracks. For the most part the music is energetic, rhythmic and full of pace. However with the tempo turned down we also get to be carried away with sensitive and haunting sounds such as in his whistle rendition of ' The Dear Irish Boy '.
Crawford's Grinter flutes purr like a cat, giving us a master class in tightly controlled phrasing, ornamentation and surgically delivered crans. Although a predominantly flute album, it is the measure of the man that his whistle tracks are on equal basis in terms of musicality and technical genius.
Recording standards are also being pushed to new levels. On Slippery Slope a combination of double and treble tracking is used. On the first tune in the set he has double tracked a counter melody line on the flute which drops out for the second tune leaving room for the bodhrán to shine. The third tune kicks in with three flute parts, one main melody flute and two harmony flute tracks basically playing thirds and fifths whilst sticking to the exact same phrasing as the melody line. Ingenious stuff and worth the cover price of the album alone.
Kevin is accompanied for the most part by John Doyle ( guitar/bouzouki ) whose steady and faithful rhythmic playing is a joy in itself. The accompaniment on Double Barrelled deserves repeated listens for its syncopated rhythms, again setting new standards.
Accompaniment is also provided by Brian Morrissey (bodhrán) and Mick Conneely (Bouzouki). Crawford's latest creation joins the canon of great Irish traditional flute albums and comes highly recommended.
The Living Tradition
If you expect this solo album to resemble edited highlights of Kevin's Lunasa career, you're about half right. Fluter extraordinaire though he is, and a defining element of the best band in Irish music for a long time, Kevin Crawford has taken a step back from that intense modern trad vibe. A gentler mood prevails through most of Carrying The Tune, a return to simple arrangements of time-polished melodies. Kevin carries the tune alone: strings and drums are provided by Doyle, Morrissey and Conneely, but the front line is just flutes and whistles. Nothing wrong with that, certainly, and there's few people better able to fill an album - plus there are none of Kevin's terrible jokes and stories here. Instead, every minute is packed with the finest of Irish music.
Mostly Irish, anyway. In amongst the compositions of Paddy Taylor, Paddy O'Brien, Pat McNulty, Donal Lunny and Maurice Lennon are two tip-top Scottish waltzes from
Cunningham and Campbell, together with a Bulgarian horo picked up in Brittany. Kevin's own fine compositions feature strongly too, of course - but only five of them, as he makes room for many traditional favourites.
He has a lovely light touch on John McKenna's, and a hefty punch for Tom Dowd's. The slow air The Dear Irish Boy is deeply moving on Bb whistle, and the twin whistles on Flatwater Fran are a clear echo of that great Lunasa sound. Kevin pairs whistle and flute, flute and flute, and mixes the keys from B to F. Its all first rate stuff, with several outstanding moments: Michael Hynes' jig The Smithstown Jaunt, Willie Clancy's slide, the traditional Ivy Leaf.
Crawford leaves the best to last, I think, as the three final tracks include a pair of fabulous slow reels, two perfectly crafted Crawford pieces, and the happy joining of a classic Irish air with a grand old reel. No fanfares, no fireworks, just flawless flute. Enjoy. Alex Monaghan
Hearth Music Web Site
This album has exactly what you'd expect from Kevin Crawford: rare and carefully sourced tunes, impeccable playing on the Irish wooden flute and tin whistles, tasteful accompaniment, and a modern edge to an old sound. Crawford's best known as the Irish fluter in all-star ensemble Lunasa, and though a few tracks here have the kind of angular modern arrangements that made Lunasa one of the best and most in-demand Irish trad bands on the planet, most tracks are subtle, tasteful performances of purely traditional music. Carrying the Tune is an all-flute/whistle album, which can get a bit tiring, but Crawford's one of the few who can pull off an album like this and make every track sound refreshing and different. It helps too that he's got John Doyle on guitar. Doyle's got quite the Midas touch in Irish trad today; everything he touches comes out golden. Together Crawford and Doyle are a formidable duo, and if you're a big fat Irish trad nerd like me, I know you're waiting very impatiently for the album from the new super-group The Teetotallers, which features Crawford and Doyle together with Irish fiddle genius Martin Hayes. But until that drops (and until you start your own blog to get a promo copy), we'll have to content ourselves with this album. Actually, rumor has it that this album was intended to be a Teetotallers album, but schedule conflicts kept Hayes from joining Doyle and Crawford. Anyways, we'll take what we can get, and this is certainly more than we expected! The liner notes here track the source of each tune, and the tunes range the gamut of Irish tune families (including two nice waltzes!), so there's a ton of great material here for the budding Irish musician. And throughout there's such a genuine love for the music that it's hard not to fall in love too. In short, this is the kind of masterful album one would expect from Kevin Crawford. --Devon Leger
www.folkworks.org
In 1989, a young man from Birmingham, England moved to Ireland in order to concentrate more fully on his passion for Irish traditional music and most specifically, on the wooden flute. Instilled with a love and appreciation of Irish music and culture from his Irish-born parents, he quickly settled into the local session scene and a few short years later released his first solo CD. That young man was Kevin Crawford and the CD entitled simply, 'D' Flute Album, quickly became a classic of the Irish trad genre and required listening for Irish flute players worldwide. Crawford went on to join the band Moving Cloud, with whom he toured and released two albums. In 1997, he was asked to join the band Lunasa, replacing departing flute player Michael McGoldrick. Crawford's addition to the then up and coming supergroup marked a turning point in the band's sound and he has remained a driving force in the group's arrangements over 7 albums as well as their frontman in concert. In 2001, he released In Good Company, an album of duets with favorite fiddle player friends, and in 2009 he collaborated with fellow Lunasa bandmate Cillian Vallely for On Common Ground, a duo album featuring Crawford on flute and Vallely on uilleann pipes. During this time, he continued to refine and expand his playing and the many years spent on the road and in the studio are highly apparent on his most recent offering, released in February of 2012. Carrying the Tune marks Crawford's first return to the true solo album format since 1994s 'D' Flute Album and the wait, while long, has been more than worthwhile. Teaming up with Irish guitar phenomenon John Doyle, Kevin Crawford proves once again why he is one of the top Irish flute players in the world, and why he continues to be such an influence on the current generation of young Irish musicians.
Originally intended to be a Teetotaler's album (a trio comprised of Crawford, Doyle and fiddler Martin Hayes) the project was quickly revised into a solo album when schedules conflicted. Mostly recorded over the short span of a few days, Crawford and Doyle recorded their tracks together live and then picked out what they felt to be the best performances of each track for the album. Later some additional bouzouki, guizouki and mandola were added by Doyle, along with some flute and whistle overdubbing from Crawford and some additional rhythm work from Mick Conneely on bouzouki and Brian Morrissey on bodhran. For the most part the overdubs are spare and this combined with the short recording period and rich, warm production value gives the album a lovely intimacy that is often lacking in the great wealth of trad albums now being offered.
The opening set of reels, titled McHugh's/Michael Murphy's/The Humors of Tullycrine, immediately dispels any uncertainties about what kind of an album this is. Crawford and Doyle are in top form as they effortlessly plow through a set of reels featuring Crawford on the Eb flute, soaring above Doyle's driving, syncopated guitar. Indeed, perhaps in a nod to his original 'D' Flute Album, there is not a bit of 'D' pitched flute to be found on this recording, replaced by C and Eb flutes and D, C and Bb whistles. These differences in pitch from the usual concert D flute allow Crawford and Doyle to play with some interesting textures and tunings for the accompaniment instruments which further adds a very different vibe to the proceedings.
2 Days, the second track, consists of two slip jigs written by Kevin and originally pitched as a set to Lunasa. Vetoed by the band, the version here begins with some gorgeous textures set by Doyle on bouzouki and guitar with Crawford playing whistle and later layering in flute on the second tune. Lucky, Lucky Day, the second slip jig in the set, is a stunning tune that I predict will be making the Irish session rounds in the very near future and the tight, tasteful playing and chordal progressions make this track worth the price of the album alone.
Autumn's Apples/Cormac O'Lunny's/Paddy Sean Nancy's is a light, straight ahead set of reels showcasing the two musicians' obvious delight in playing together as the flute and guitar call and answer one another through one tune variations after the other. How many of these little bits of the musical "conversation" were planned out and how many were happy accidents in the studio we will probably never know but it is a wonderful track that nicely showcases two master musicians at the height of their craft.
Flatwater Fran/Mrs. Jean Cambell BSC is a set of waltzes, performed by Crawford on several overdubbed low F whistles and a low Bb harmony flute. For fans of Lunasa, this is probably the track that is closest in sound to the band's now famous "low whistle trio" arrangements. The first tune is a composition of Scottish accordion maestro Phil Cunningham. The second comes from the playing of Scottish piper Rory Campbell and was originally recorded by the band Deaf Shepherd. I had not heard the tune in years and was pleasantly surprised as it is one of my favorite waltzes, and both tunes are given a wonderful life and quality here by Crawford and Co.
On an album that features primarily flute and guitar, even well played music can quickly become stale if the same formula is repeated over and over and Crawford wisely finds ways to avoid this problem without ever losing the essential momentum of the recording as a whole. I have long said that Kevin is one of the Irish music's premiere air players and on The Dear Irish Boy he takes up one of the big standard pipe airs on the Bb whistle, infusing the tune with his usual sense of melodic taste and emotional clarity. The result is a truly haunting performance, supported by sparse but perfect guitar accompaniment from John Doyle. The two then continue on with a set of darkly rhythmic jigs, The Hole in the Boat/Sally Sloan's.
The Slippery Slope may take my vote for favorite track on the album. Finely textured guitar opens this set of slip jigs with Crawford leaping forward on both melody and harmony flutes. I have always appreciated musicians who, while talented, restrain themselves from the absolute craziness you know they could ascend to if they wished, and instead choose to implement that prowess for just the right moments. Crawford exercises that tasteful restraint here though you hear his energy and enthusiasm bursting at the edges of his music until the track hits the final tune (a traditional Bulgarian 'Horo'). He then unleashes several harmony flutes and, along with Doyle's lush chordal arrangements, builds the track in intensity until the satisfying climax.
Repeal of the Union is a set of reels starting with the eponymous old piping tune before switching into one of the nicest and most interesting versions of the Ivy Leaf I have ever heard. This particular reel is oft played by many pipers and flute players and Kevin presents an interpretation that combines elements of many different versions of the tune while adding in various aspects of his own inimitable style.
Della the Diamond is a set of three tunes written by Crawford, each for a member of his family (mother-in-law, sister-in-law and wife, Tracy, respectively) and it provides a wonderful example of his tune writing abilities. This is one of several tracks that feature bouzouki player Mick Conneely. Conneely plays a Greek bouzouki with 6 strings and his style is very reminiscent of Alec Finn's classic approach to the instrument. You would think that his rolling, old school playing on the bouzouki would clash with Doyle's very modern, syncopated style on the guitar but in fact the two very different accompanists mesh perfectly on this track, providing a sure and measured textural net underneath Crawford's lilting whistle playing.
The Hula Hoop opens with a jig written for a neighbor and snooker rival of Kevin's and it is another example of his gifts for hiding subtle musical 'winks' in his playing. The tune takes some unexpected variational paths, replacing legato phrasing with a staccato phrase here and there and is a testament to the sheer joy and love of playing that is inherent in this album. The set then shifts gear into a reel and churns along to the solid, neatly locked rhythms of Doyle on guitar and Brian Morrissey on bodhran.
The album ends appropriately with the air Ag Taisteal na Blárnan (Travelling Through Blarney) on the low C flute, once again displaying the ease and understanding with which Crawford presents slower melodies. The air is then followed up by one last reel in the form of the session favorite, Come West Along the Road.
Kevin Crawford has said that this album was meant to be primarily about musicality rather than showy technique, and this choice becomes more and more evident upon both first and repeated listenings. The technique and pyrotechnics are there, but they never get in the way of the melody and there is a excitement and playfulness to his music that grabs the listener from the first note. All in all, this album succeeds brilliantly because it takes no shortcuts in how it presents the material. Talented and inventive musicians with a deep respect for their craft and tradition coupled with a simple approach to the arranging and a stellar production make this CD a must have for fans of the genre and for Irish flute players especially. Zac Leger
Folkworld 47
Kevin Crawford of Lúnasa fame is taking a break from the band's hectic touring schedule. Together with the help of John Doyle on guitar and bouzouki and occasionally Mick Conneely on bouzouki and Brian Morrissey on the bodhran, Kevin recorded 14 tracks that weren't meant to become part of Lúnasa's repertoire, though I see no reason why not. It's a party, it's fresh and innovative as we knew it from Lunasa - though more stripped down here, of course. I love the nice slip jig set of Maurice Lennon's "La Ollamh" and Donal Lunny's "Lucky Lucky Day". There's a pair of lovely waltzes, Phil Cunningham's "Flatwater Fran" and Rory Campbell's "Mrs Jean Campbell (BSC)," and before finishing off Kevin throws in a couple of his own original jigs. The highlight though is in the middle of the album, the song air "Dear Irish Boy" followed by two jigs with a total lenght of seven minutes. For sure, Kevin Crawford can carry a tune. Great traditional Irish music, not only for flute afficionados!
People who bought this item also bought