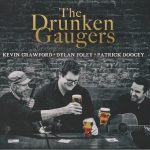 The Drunken Gaugers
Kevin Crawford - Dylan Foley - Patrick Doocey
BBR002
Three of America's favourite musicians unite to produce The Drunken Gaugers, funny as none of them drink! They take the name for a set dance, associated with Clare fiddle master, Bobby Casey.
Kevin Crawford is one of the finest young flute players in Irish traditional music today. He is internationally acclaimed member of top Irish band, Lunasa. Nowadays based in New York, he still tours with Lunasa, and various other musical outfits. On this disc he has rounded up two of his regular collaborators, New York fiddle master, Dylan Foley and guitarist Patrick Doocy under the guise of The Drunken Gaugers.
Dylan Foley is  4-time All-Ireland Fiddle Champion, who has delighted audiences from Lincoln Center to the  Austin Celtic Festival, and from the mayor's Gracie Mansion in NYC  to Irish Television channels RTE and TG4.  In 2013, Foley traveled with Mick Moloney to Vietnam as part of Irish Aid, bringing Irish music and culture to those who were affected by the horrors of the Vietnam War.  Dylan is in demand as a teacher and performer at the major Irish music summer camps on both sides of the Atlantic. He is a member of The Yanks, the hot trad band that has been called" the next Irish American dream team".  Dylan is committed to passing on the tradition, as it was graciously passed to him, by the incomparable Rose Flanagan and others. You can hear his passion for the music is in his lively and fluid playing.
"One the finest Irish fiddlers of his generation." – Brian Conway
Patrick Doocey
 An All-Ireland winning multi-instrumentalist, Patrick is quickly becoming one of the most in demand accompanists on the Irish music scene today. Predominately self taught on guitar, Patrick's exciting style on both nylon and steel string guitar combines influences from many genres.
 An All-Ireland winning multi-instrumentalist, Patrick is quickly becoming one of the most in demand accompanists on the Irish music scene today. Predominately self taught on guitar, Patrick's exciting style on both nylon and steel string guitar combines influences from many genres.
Born in Worcester, Massachusetts and having lived in Foxford, County Mayo, Patrick now resides in New York City. His talents have brought him all over Europe, Asia, America and Africa.
His musical journey so far has seen him perform with artists such as Sharon Shannon, Liz Carroll, Lunasa, Mary Chapin Carpenter, Teada, Buille, Cathal Hayden, Karan Casey, Sean Keane.

Audio
Track 1: The Drunken Gauger
Track 2: The Thrupenny Bit
Track 3: The Old Morning Dew
Track Listing
Padraig O'Keefe's/The Broken Windscreen/ The Sailor's Cravat.
The Drunken Gauger/O'Sullivan's March/Humours of Aylehouse
Mairtin O'Connor's/Moving Indecency/An Guidach Fanach
The Thrupenny Bit/Joy of My Life/Farewell To Philip Lane
Dylan's Solo: Ratholdran Castle/The Abbeyleix Reel
Dandy Bash/ Bracken's/Packie's Wandering Minstrel
Step It Out Joe/Captain Kelly's/Bridie's Joy
Kev's Solo: Adam's Apple/Danny Mescall's/The Flogging Reel
Conroy's/The Sloping Meadow/The Boys of Carrickroe
Doherty's/The Munster Reel/The Hare's Paw
Pat's Solo: The Cursed Kerryman
Friday Harbour/The Flat House/The Heather Breeze
Contentment is Wealth/The Old Morning Dew
Also available from Copperplate featuring Kevin Crawford
Carrying The Tune
Press Reviews RnR magazine Nov/Dec 17    * * * *
Named after a set dance associated with Clare fiddler Bobby Casey. The Drunken Gaugers is an album of top-drawer trad, arranged and contemporary Irish tunes played with flair and inventiveness by flute player Kevin Crawford, fiddler Dylan Foley and guitarist Patrick Doocey.
Of the three it's arguably Crawford  who will best know to RnR readers, as a founder member of Irish band Lunasa. These days the Birmingham-born musician is resident in New York where he's teamed up with four-times all lreland fiddle champion Foley and sell-taught and in-demand guitarist Doocey to perform at sessions, festivals and concerts around the NY area and beyond.
Each instrumentalist is given space to shine on a series of solos - Foley on the 'Ratholdran Castle' set of reels. Crawford with 'Adam's Apple' and Doocey with 'An Ciarraioch Mallaithe' but it's when they combine those talents on a set of jigs. reels and hornpipes that the sparks really.
As you might expect. a trio with this pedigree produces music of the highest quality, with dynamic instrumental work and a musical empathy bordering on the supernatural as they work through a set of tunes that allows each to shine but which also showcases their breathtaking interplay and which, to resort to the overused phrase, is considerably greater than the sum of its parts. Dave Haslam
SONGLINES MAGAZINE 133
The Drunken Gaugers  ★★★★★
      Some of New York's finest Irish musicians raise their glasses
There's a delightfully tipsy quality to the familiar jig that gives this album, from three scions of New York's Irish music scene, its title. It's an appropriately controlled level of intoxication, for the foamtopped nectar-filled glasses on the album's cover image appear to be conspicuously full and untouched.
There's much to raise a glass to here. The group includes Lúnasa flautist Kevin Crawford, four-times All-Ireland fiddle champion (and frontman with up-and-coming American outfit The Yanks) Dylan Foley, and the much in-demand guitarist Patrick Doocey. The album gives a nod, too, to the late County Clare fiddle maestro Bobby Casey, whose easy-going, underplayed signature is everywhere in evidence here. Often sublimely so, as in Foley's solo effort that melds 'Ratholdran Castle' with 'The Abbeyleix Reel'.
Crawford and Doocey also take a spot centre stage. Crawford is blissfully light and fluid on a set of reels, beginning with the airy 'Adam's Apple'; while Doocey's textured, harp-like sonorities are altogether soulful on the traditional lament 'An Ciarraíoch Mallaithe'.
As an ensemble, they make a formidable sound. Effortlessly spontaneous and reciprocal, they are nimble and bright throughout, not least in lending an authentically New York bounce and buoyancy to the sparky pairing of 'Contentment is Wealth/The Old Morning Dew'. MICHAEL QUINN
People who bought this item also bought