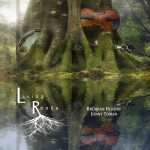 Brendan Hendry & Jonny Toman
Living Roots
LR001
Guest Musicians:
Alison Crossey: Bodrhan
Pete Toman: Double bass/
Rachel Toman: vocals track 11
Living Roots is the innovative debut Album from Brendan Hendry & Jonny Toman that brings together Irish traditional fiddle & 5 string banjo like never before!
Living Roots takes the listener on a quest through the much loved heartlands of Irish & Appalachian traditions. Setting out with a hornpipe and solid reel set, Living Roots is a journey through jigs & reels whose names are steeped in the tradition, from heartfelt slow airs on fiddle & dobro to the imaginative renderings of classic old-time Appalachian fiddle & banjo duets! The album features newly composed material from both Hendry & Toman drawing on traditional & modern tune forms. Harmonically the banjo & fiddle melodies are supported with textured acoustic guitars, bouzouki & dobro lines played by Toman. Guest musicians featured are Alison Crossey on Bodhrán , Rachel Toman on Vocals & Pete Toman on Double bass.
"We got the distinct feeling when we were listening to 'Living Roots' the first time that we were hearing The Instrumental Album of the Year. Subsequent listenings have only re-enforced the feeling!"     Bill Margeson
These two artists from Northern Ireland have created what will be sure to become a classic. Living Roots features Brendan Hendry on fiddle and Jonny Toman on banjo, guitar, and dobro. Years ago, Brendan told me that he had started working with Jonny, and the results were going to be special. He was absolutely right. There were a lot of terrific instrumental albums this year, but this one magically mixed traditional Irish, Americana, and other folk idioms in what is a true gift of an album. Two Irish master musicians make one masterpiece.    Bill Margeson
"One of the most wonderful instrumental tracks of the last couple of years".
(The Crosses of Annagh / Cousin Sally Brown ). "I love the album"  Mike Harding
With
Audio
Track 1:The Boyne Hunt Set
Track 2:Cousin Sally Brown
Track 3: The Primrose Lass
Track Listing
The Boyne Hunt Set

The Crosses of Annagh / Cousin Sally Brown

The Fall / Heartlands / The Gent

From Rocktown to Boylan's Shore

The Tinman / Annabel's Journey

Return to Clinch Mountain / Micho's Masons

The Mist On The Mountain / The Curlew's Cry / Chris Corbett's

O'Mahoney's / The Green Fields of Glentown

The Love of the Isles / The Primrose Lass / Sean Ryan's

Where Is My Sailor Boy?
Press Reviews

Irish Music Magazine August 17
Living Roots starts off with fiddle and banjo and, for the first few bars of the opening hornpipe, it seems as though the 'innovative' tagline being used to describe this new album from Brendan Hendry and Jonny Toman, is a bit contrived, for it sounds like nothing more than any other well-produced fiddle and tenor banjo album. Not a bad thing at all, but where is the innovation?
Such is the subtle intuition and attentive finger picking of Jonny Toman as he plays Irish traditional tunes on 5-string banjo, yes a 5 string not a tenor! That is where this new production Living Roots indeed lives up to its tag.
Between Toman on 5-string and Brendan Hendry on fiddle (along with a number of instruments and guests which add to the overall mix, particularly Toman on dobro which contributes beautifully to the overall sound). They have conspired to deliver a fine treat of music for fans of American and Irish and the combination of both.
Over the course of 10 tracks, unique traits of the 5-string banjo do spring forth, with techniques like pull-offs adding the instrument's distinctive accent to traditional tunes like The Boyne Hunt, as well as seamless triplets and a drive that settles nicely into the Irish style as heard on O'Mahoney's.

Alongside the likes of Tom Hanway, Jimmy Kelly or Paddy Kiernan, Jonny Toman joins the campaign for 5-string finger picking banjo to be held up in its own right as a distinct purveyor of traditional Irish tunes, taking it way beyond the stiff, backwoods grandpa of the tenor banjo who just can't quite get that damned jig rhythm right! Indeed. Toman's distinctive flow can be heard displayed expertly in 6/8 time through the intuitive interpretation on the Mist on the Meadow set, with the tone of the 5-string adding a wonderful depth.
Not that Hendry's fiddling is to be overshadowed here, hopping between Irish and American twangs with as much fluidity as the 5-string; it is this cross-over of styles and instruments that makes Living Roots a truly innovative album and a must for fans of either or both genres, from two highly productive musicians who also share membership of the long-running Northern Exposure bluegrass band.
In among the weaving of styles and traditions, are some original compositions and songs from both, with special mention to the rich fiddle tone and overall quality on the track From Rocktown to Boylan's Shore.  Derek Copley
RnR Mag May/June 17  * * * *
A fusion, a melange or a synthesis? None of these terms does justice to the unique combination of sounds that permeates this debut album by the duo.
lrish and Appalachian traditions merge and the result is this unique and satisfyingly melodic collection of nine tunes, plus one song (Where Is My Sailor Boy?').
Brendan Hendry is A consummate fiddle master and playing one of his own compositions 'From Rocktown To Boylan's Shore' is a highlight. The delicate melody is superbly complimented by Jonny Toman who contributes, on this haunting track, lap steel. guitar and Dobro. Elsewhere Jonny's five-string banjo playing is an understated pleasure to listen to.
The pair's handling of traditional tunes such as 'The Mist In The Meadow' is deftly done. The touches of piano, also  by Jonny are exemplary, of the less is more approach that pervades Living Roots.
"The Love Of the Isles', composed by Shetland fiddler Willie Hunter, is given one of the most consciously American-sounding treatments. Here again we have an indication of the pair's artistry and expertise in producing  tuneful arrangements with true transatlantic appeal. Colin Bailey
Froots  May 17
Irish music played on fiddle and five-string-banjo is not an everyday thing. Hendry and Toman cruise though Irish and Appalachian strains with subtlety and restraint. Hints of newgrass and ambient elements abound among traditional roots. intriguingly different.
www.folking.com
Living Roots is a traditional and modern tunes album that sets the scene from the first track – 'The Boyne Hunt'. Hornpipe and fiddle at its best! I was already hooked!
Track two – 'The Crosses Of Annagh/Cousin Sally Brown' is a melodic and haunting track to begin with – then in comes the fiddle, reels so off we go! Track four is a beautiful flowing acoustic guitar picking and into a jig.
The ten glorious tracks all have this type of mix, which doesn't fail to uplift the spirits and draw you in as the listener, and keeps you wanting for more.
The last track has a song! 'Where Is My Sailor Boy?'.  Fabulous banjo picking with guest vocals from Rachel Toman. Other guest musicians featuring on Living Roots are Alison Crossey on bodhran and Pete Toman on double bass.
Brendan Hendry won the Live Ireland's Musician of the Year award in 2012 – his fiddle playing is something else as is Jonny Toman's gift for playing a mean 5 string banjo. Multi-instrumentalist Jonny is also featuring on the album with textured acoustic guitars, bouzouki and Dobro, amongst other instruments. It should be noted that Living Roots is Live Ireland Album of the Year and rightly so. Well deserved.
For those of you who love Irish and Appalachian fiddle, jigs, reels and banjo – this is the album for you. For those of you who have yet to discover the delights of this foot tapping genre of music, prepare to be delighted!! Very refreshing. I love it! Lovely photography and design on the CD by Chris Brennan. Jean Camp
http://folking.com/brendan-hendry-jonny-toman-living-roots-own-label-lr001/
People who bought this item also bought