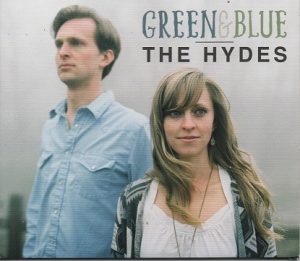 The Hydes: Green & Blue
Guest Musicians: Colm Phelan (of Goitse): Bodhran
Tadhg O'Merchair (of Goitse) Accordion
Eric Thorin: Bass
Christina Dolphin: Flute
Alan Reid: Tenor Banjo
Colorado-based sibling duo, The Hydes, recently released their debut album, Green & Blue, which weaves creatively and decisively through an eclectic musical landscape of American folk, Irish, bluegrass, and beyond. They imaginatively merge their acoustic styles to create textured instrumentals and rich vocal harmonies in a way that speaks unmistakably of roots in Colorado and Ireland, as well as visits to places in between. The album features guest appearances from a host of noted Irish musicians including Tadhg Ó Meachair (piano/piano accordion) and Colm Phelan (bodhrán) of award-winning band Goitse, Alan Reid (banjo), and Christina Dolphin (flute), as well as American bluegrass/folk/jazz bassist Eric Thorin (Matt Flinner Trio, Mollie O'Brien).
Joanna (fiddle, vocals) and Iain (guitar, mandolin, vocals) grew up in a musical family in Denver, Colorado, and traveled the country to share their music at festivals, house concerts, workshops, and various venues from their elementary school days onward. From gigs in Nashville to Ireland, sold-out shows at home in Colorado and the Western USA, and most recently Iceland, The Hydes continue to expand their exploratory musical scope on a path that includes Irish, Cape Breton, Texas swing, bluegrass, swing, blues, and classic American folk styles.
Following her graduation as music major from Colorado College, focused on classical and bluegrass music, Joanna was selected as one of 10 scholars from across the USA to receive the prestigious Jack Kent Cooke Foundation's Graduate Arts Award (2011). With this generous scholarship, she moved to Ireland to pursue three years of studying Irish traditional music - and eventually teaching - at the University of Limerick's Irish World Academy of Music and Dance. Now graduated with an MA in Irish Traditional Music Performance, Joanna continues to bring her passion and breadth of experience to The Hydes in their constant search for new and innovative acoustic music.
Iain, an award-winning fiddle, mandolin, and guitar player, has performed, composed and taught music across the USA and abroad. Paired with his spark for musical exploration, Iain's versatility as a multi-instrumentalist, vocalist, songwriter, and composer greatly expands the range of possibilities for this duo. Green & Blue features a number of Iain's compositions, which are shaped by both Iain and Joanna's complimentary musical approaches, culminating in this recording.
With
Audio
Track 1: Green & Blue
Track 2: The Glen Road To Carrick
Track 3: Crotty's Glory

GIG GUIDE
Joanna on tour w/ Tadhg Ó Meachair (from Goitse) & Dave Curley
Saturday, May 20, 2017
8:00pm 10:00pm
Bright Box Theater
May 21 Joanna on tour w/ Tadhg Ó Meachair (Goitse) & Dave Curley
Sunday, May 21, 2017
2:00pm 4:00pm
Muddy Creek Music Hall
May 22 Joanna on tour w/ Tadhg Ó Meachair (Goitse) & Dave Curley
Mon, May 22, 2017 7:00pm Tue, May 23, 2017 9:00pm
Oak Mountain Hideaway
May 23 Joanna on tour w/ Tadhg Ó Meachair (Goitse) & Dave Curley
Tuesday, May 23, 2017
7:00pm 9:00pm
Donohue's House Concert
May 24 Joanna on tour w/ Tadhg Ó Meachair (Goitse) & Dave Curley
Wednesday, May 24, 2017
7:00pm 9:00pm
Kerr's House Concert
May 25 Joanna on tour w/ Tadhg Ó Meachair  (Goitse) & Dave Curley
Thursday, May 25, 2017
7:00pm 9:00pm
Klinkenbergh's House Concert
The Hydes
The Black Rose Acoustic Society
Friday, September 8, 2017
7:00pm 9:00pm
Black Forest Community Center
www.blackroseacoustic.org
Track Listing
Along The Saint Vrain

Green & Blue

Land's End

Sweet Bride

Rivers Run

The Milky Way

Muddy Water

Finn, On A Lark

Cooper's

Nothing Can Change This Love
Press Reviews

www.folking.com web site
This recently released debut album from Denver sibling duo – Joanna and Iain Hyde – who have mastered the art of Irish music, and entwined it with a dash of Americana and bluegrass, is a fabulous album! They have already won 2 accolades this year – Best New Group 2017 from Liveireland and Best New Group from Chicago Irish American News! Iain is a multi-instrumentalist in his own right and extremely versatile. Joanna was selected from 10 pupils across the US to receive the prestigious Jack Kent Foundation's Graduate Arts Award in 2011 whereupon she moved to Ireland to study Irish traditional music and achieved a MA in Irish Trad Music Performance. Not a bad start. After travelling around Colorado and Ireland, they have brought together an interesting fusion of various roots music and crafted it into Green & Blue.
Ten tracks for your delectation kicks off with a fiddle led Irish tune – 'Along The Saint Vrain' which sets the scene slowly then bursts into different tempos from mid track. Lovely guitar and rhythm. Very nice.
The title track – 'Green and Blue' – features the lovely melodic vocals of Joanne with Iain harmonising and was written as a collaboration between them. 'Lands End' is a traditional arrangement and back to fiddle and bodhran. Catchy little number! 'Sweet Bride' originally by Kate Rusby, gives beautiful harmonies and incorporates a lovely melodic haunting tune from the piano to compliment the voices.
Karine Polwart's 'Rivers Run' – comprises of all strings and Joanne's melodic voice. Next up 'The Milky Way' – a traditional collection of five tunes flowing into each other and incorporating all strings, piano accordion and bodhran. 'Muddy Water' – a creation of fine singer/songwriter – Boo Hewerdine, features Joanne on lead vocals with Iain harmonising. Nice mandolin on this track too.
'Finn, On a Lark' featuring fiddle, mandolin and bass is a lovely, rich mournful tune, with superb mandolin and fiddle. The penultimate track – 'Coopers' – is uptempo, catchy and uplifting. I felt myself tapping my feet with gusto!
The album ends with Sam Cooke's 'Nothing Can Change This Love' which features Joanne on vocals and is a very bluesy/jazzy arrangement. Very different from the rest of the album, but nevertheless, a beautiful arrangement.
I really like this album, a cracking debut album, and one that deserves to be listened to as they have studied hard with their music, and it shows. Jean Camp
http://folking.com/the-hydes-green-blue-hyde-music-productions-hydecd1/
Songlines May 17  Reviews
Sibling due drag their Irish-Americana from the hyde-out
This Denver Colorado sibling duo of Joanna (fiddle, vocals) and her brother Iain (guitar, mandolin, vocals) craft an elegant and eclectic blend of American and Irish folk and bluegrass on their debut album.
Four of the 10 tunes here were written between them, with telling covers coming from the likes of singers Kate Rusby, Karine Polwart, and Tim O'Brien as well as a lovely, delicate version of English singer-songwriter Boo Hewerdine's deservedly popular 'Muddy Water'.
Perhaps more unexpectedly, they turn to the great soul and gospel man Sam Cooke for the swinging closer 'Nothing Can Change This Love'. On the strength of this particular cover song, it would have been interesting to hear what might have happened had they let themselves go just a tiny bit more throughout. Still, The Hydes have delivered a winning debut, comprising equal parts charm to cracking musicianship. Kevin Bourke
Live Ireland.com:  
New Group of the Year – The Hydes – Green & Blue
Iain and Joanna Hyde are from Denver. Heretofore, we haven't thought of Denver as any kind of hotbed of Irish music. These two change all that instantly. Iain is a creative and superb guitar player in support of his sister Joanna on fiddle. They had some guest stars sit in on this album, and there is no more rapidly rising act in the business than these two. To say the least, they are gathering a lot of attention – and Alan O'Leary's Copperplate Group in London has taken them on to introduce them to the British Isles.  He and I agree—this album instantly establishes The Hydes in the forefront of our music. This is a magical duo to watch, and major talents are lining up to play with them.  Bill Margeson
Chicago Irish American News: Tradition in Review Column Jan 17
New Group of the Year                          

www.fatea.com
Here we go the The Hydes album Green & Blue. I will be the first to admit I had never come across them before so a little about them. They are a brother and sister out fit from Colorado who are Joanna and her brother Iain.
The opening track is Along The Saint Vrain a wonderfully up beat offering on the fiddle and sets the mood perfectly for what is to come. This is followed by the title track Green & Blue which does slow things down a bit. It has a very Irish lullaby feel to the song as it sways through your head and swirls around the room.
Up next is Lands End which returns to the feel of the opening track with is toe tapping energetic fiddle playing that conjures up images of dancers swirling around a room in rural Ireland or a barn in the mid west of America. From here the mood is mellowed for the next track Sweet Bride a wonderful blend of soulful lyric and beautiful music that tells a story of love and marriage in a bygone age.
River Run is up next and is about the journey of life with its twists and turns like a river with its high points, low points and of course it's rapids. The lyrics and music blend wonderfully to produce a beautiful journey. From the journey of life you as the title suggests The Milky Way takes you to a place full of wonder and possibly. Close your eyes and drift with the music whether that be through the vastness of space or on a breeze. Then all of a sudden you are caught in an up draft and find your self being tossed around in the wonderful fiddle induced piece of turbulence which leads you onwards swirling, rising, dropping until you come to rest at the end of the track refreshed and wanting more.
More is what you get at a slower pace. Muddy Water is a track tinged with sorrow about everyday life and all it brings. Honey dripping lyrics couple with soul filled guitar chords. Keeping with the slower pace comes a babbling brook of a song Finn On A Lark. The song remains me of a the clear waters of the brook bubbling over pebbles rushing and gurgling then slowing into Sun drenched pools with fish basking in the warm rays of the Sun.
Cooper's dovetails perfectly with the previous track. It is a bit more energetic and has a feel of an Irish jig to it. Try not tapping foot is all I will say.
Blues folk blues. That's it, wow what an unexpected surprise gone is the folk bluegrass feel of the previous tracks and in comes Nothing Can Change This Love and what a little nugget and an excellent way to close the album with a smile on your face.
In conclusion what can I say apart from really enjoyed this offering and it is well worth putting in your player and laying back and listening to. It is a perfect mixture of Irish folk and American genres such as bluegrass that have produced a wonder sound . So go on give it a whirl. Andy Chamberlain
Swallow Hill Music (Denver, Colorado, USA)
"The Hydes are one of our hands-down favorite groups to work with! In addition to being exceedingly talented performers, they are engaged with their community and fans and work hard to help create beautiful, successful evenings of music every time we host Iain and Joanna. The Hydes are always welcome in any of our venues and our audience loves them!"
Irish Music Mag
Right on our deadline, in comes this album from The Hydes, called Green & Blue. The brother and sister (Iain and Joanna) are based out of Denver. We have not thought of Denver as a Celtic hotspot, but we are reconsidering. Iain (pr. Ian) and Joanna (pr. "Jo") are big talents. Big. Iain on guitar/ mandolin and Joanna on fiddle are at the epicentre of this 10–track CD, of course. Four of the tunes were written by them. They are assisted by several talented side musicians, including Colm Phelan of Goitse on bodhrán, Christina Dolphin on flute, Tadhg O'Meachair on piano (with piano accordion), and some terrific bass work from Eric Thorin on bass. Where to start?
Both are excellent musicians of the first water. Joanna has her M.A. from the Limerick School of Irish Music, and has, in fact, taught there. Still does, on occasion. She is also a gifted singer. A steady, mature voice stays perfectly in the essence of the songs, ably backed up by Iain on harmonies. Another example of that "sibling blend" theory that says family members make the best harmonies for several reasons. Think of The Everly Brothers or the Mills Brothers and The Andrews Sisters and Clannad of course. Joanna's fiddle work can be blazing, but is always beautifully controlled and tasteful. She is a fiddle star already, and brother Iain is part of the new guitarist movement in Irish music taking the whole field to a new level. Just like Joanna, his guitar is very current, hip, fab chords and runs, but all very tasteful and intuitively grasping how to support the fireworks being brought to us by the fiddle. We cannot wait to see these two in live performance, and the early word is that their show is great, also!
There is a great musicality here. Intricately planned arrangements still come across as simple and accessible. That's the point, we suppose. Easy to come in on and love. You have to be good to do this, and they are really, really good. There is wonderful variety in the tunes and songs. And, how can you NOT love an Irish album that ends with Sam Cooke's, Nothing Can Change This Love? Complexity, directness and a deep love for Irish traditional music and its history, The Hydes bring it all. We have a sure feeling that this album is the start of something very big, and we hope it lasts a long time! Find this album!  Bill Margeson
Celtic Connection
Think of the wedding tradition of "Something old, something new, something borrowed and something blue" and apply it to the debut disc of brother and sister duo Iain and Joanna Hyde and you've got a winner.
Iain, mild-mannered State of Colorado bureaucrat by day and wicked guitar and mandolin player by night and Joanna, graduate of Colorado College and the University of Limerick, fine fiddle player and accomplished singer have produced an album with elements of the old, new, borrowed and blue that's a joy to listen to.  The old is in some traditional Irish music – jigs and reels – The Milky Way, Piper's Chair, Coen's Memories and Crotty's Glory; the new in original songs with an old-timey feel – Iain's "Along the Saint Vrain" with a nice bluegrass/Americana sound and his bluegrass "Cooper's" with a fun jazzy progression under melody and the title track "Green and Blue" and "Finn, on a Lark" (a bit of swing with jazz accents), both written by Iain and Joanna.  The borrowed features songs by Hot Rize' Tim O'Brien ("Land's End/On the Road from Glen to Carrick"), England's Kate Rusby ("Sweet Bride") and Boo Hewerdine ("Muddy Water") and Scotland's Karine Polwart ("Rivers Run").  And finally, the blue is Sam Cooke's "Nothing Can Change This Love".  Another way of looking at the creative mix of songs is the referential title with plenty of Green (Irish) music closed out with a Blue(s) song from the American tradition.Joanna's lead/harmony vocals on "Sweet Bride" capture the poignant air of Rusby's new/old folk song and Iain's guitar and mandolin playing throughout the album is brilliant.  Hearing the work of Polwart and Hewerdine is a rare treat, especially when so well and lovingly rendered by the Hydes and their friends.
Ably supported by an international cast of musicians that includes Lyons' Eric Thorin on bass, flute player Christina Dolphin, bodhrán man Colm Phelan and pianist/accordion player (and former All-Ireland Champion) Tadgh Ó Meachair from Dublin and Alan Reid, finger-picking banjo player from County Leitrim, the Hydes new album would be a fine addition to the libraries of trad music lovers. Rodger Hara
People who bought this item also bought