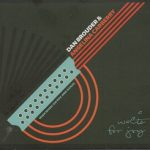 Dan Brouder & Angelina Carberry: A Waltz For Joy
With
Brian McGrath: piano
Johnny McDonagh: Bodhran
John Blake: guitar
Brian Mooney: bouzouki
Ruairi McGorman: bouzouki
Siri Snortheim: cello
James Blennerhasset: bass
Showcasing a new high in Irish music duets  Limerick and Manchester musicians, Dan Brouder and Angelina Carberry who combine to deliver sublime melodies and exquisite tune interpretations. Dan Brouder is a well-respected exponent of the West Limerick accordion style, whilst Angelina Carberry, born into a family steeped in traditional music, is considered one of the finest exponents of the Irish tenor banjo. Their recent album, A Waltz for Joy, was released to critical acclaim.
Dan Brouder is a well-respected exponent of the West Limerick accordion style from Monagae, a parish on the outskirts of Newcastle West. He learned his music in the surrounding parishes of Ardagh, Carrigkerry and Glin on the Sliabbh Luachra boundary from accordion player Donal de Barra, Athea Co.Limerick and from flute players Francis O'Connor and Donal O'Sullivan who learned their music from Peadlin Aherne, fiddle player and Pajo Gleesen flute player from the 1930's and 40's and whose styles are strongly bedded in West Limerick roots. Dan plays regularly in sessions and festivals in both West Limerick and around the country. He has performed with various musicians at numerous festivals throughout Europe Asia and America. His debut album The Larks Air released in 2011 was well received in the traditional music circles and through reviewers of traditional music and culture. He has appeared on numerous traditional programmes over the years on Television and Radio at home and abroad including Hup 2015 Geantrai Tg4 94,95,98,08 fleadh cheoil programmes for RTE from listowel 96 cavan 2011,and sligo 2015.He also guested on RTEs nationwide with legendary actor Maureen o Hara in the mid-nineties. He also guested on Pat Shorts comedy production Killinascully in 2006.He recorded for the High part of the road, a music series produced by RTE in the early 90's with the legendary Johnny O Leary accordion player from co Kerry and flute player Joe Sullivan. He has also guested on numerous recording projects including Diarmuid O'Brien's recording in 2008 CAIRDE CAIRDIN and Angelina Carberry's PLUCKING MAD 2014.His influences over the years include Finbarr Dwyer, Johnny O'Leary, Connie O'Connell, Tommy Peoples, Paddy Cronin and Padraig O'Keefe. Dan is a musician held in high regard among his peers for his musical integrity and the enjoyment he passes on through the music he plays and cherishes.
Angelina Carberry was born in Manchester in the late 70's into a County Longford musical family steeped in traditional music. Starting on the tin whistle she later moved on onto the banjo following in the footsteps of her father Peter and Grandfather Kevin Carberry. Angelina moved to Galway in the late 90's where she recorded the highly acclaimed album 'Memories from the Holla' with her father Peter on Accordion and John Blake on guitar and piano. Of this album Mairtin O Connor said: "Simply a treasure to the ear and food for the soul". Over the years, Angelina has developed a highly personal style with unique rhythmical characteristics. Her unmistakable banjo sound is captured on her solo 2005 CD, An Traidisún Beo, which was awarded among the New York Irish Echo's Top 10 CD'S of the year. Her recent release 'Pluckin' Mad' in 2014 was described by Daniel Neely New York Irish Echo, as an album filled with enchanting music. In addition to performing, Angelina is also a respected music teacher and popular banjo tutor at many festivals throughout the country and abroad.
Audio
Track 1: The Kerry Reel
Track 2: A Waltz For Joy
Track 3: Tommys Pott's/Alice's Reel
Track 4: The Battle of Dunboy
Track Listing
Tatter Jack Walsh/ The Reaper/ The Alna Jig (jigs)
The Kerry Reel/ McFadden's Own/ The ConVent Reel (reels)
A Waltz For Joy/ Old 57/ Robetta's Waltz (waltzes)
The Pidgeon On The Gate/ The Drawing Room! Touch Her If You Dare (reels)
McCarthy's! The Basket Of Oysters/ East of Glendart (jigs)
 Hornpipe 534/ Over The Hill To My Nanny Ohl/ Homplpe 778 (hornpipes)
Curlews In The Bog/Tommy Peoples'/ Monsignor's Blessing (reels)
Glanmorgan House/ Erin Go Brach/ Duiseachd Jig by Jackson
 A Waltz For Flnbarr/ Breakfast At 9/ The Ruisin Reel (waltzes/reel)
The Parry Jlg/ The Céide Shp Jlg/ The Friendly Robin (jigs)
The Battle of Dunboy/ Kltty O' Sheas (hompipes)
Michael Gorman's/ Tommy Potts'/Alice's Reel/ Finbarr Dwyer's (hopjigs/reels)
The Blackbird] John Doe! The Blackbird (hompipes)
Finbarr's Scholar/ Sherry's Return/ Richard Dwyer's Fancy No.2 (reels)
Watch Dan & Angelina on You Tube  [youtube=https://www.youtube.com/]
Also available from Copperplate featuring Angelina Carberry
Angelina Carberry & Martin Quinn
Press Reviews
Dan Brouder & Angelina Carberry | "A Waltz For Joy"
Angelina Carberry and Dan Brouder's "Waltz for Joy" has made a special contribution to the long line of banjo/box combinations.
The banjo and button accordion make a bold, powerful pair. The former, a product of Africa, began to take its now-familiar form in 19th-century America, just as the latter was invented and started its spread across Europe from Germany. A century of subsequent technical refinement yielded a pair of streamlined, highly developed machines that might be considered musical icons of the industrial age representing, in tone and timbre, a history and experience that speaks to a spirit of enterprise, innovation, and modernity.
Although used in a variety of ways, the two instruments together have comprised one of Irish music's enduring, iconic sounds for over a century. Just shortly after the Rising, for example, Edward Herborn (accordion) and James Wheeler (banjo) made a series of records for Columbia at the behest of Ellen O'Byrne DeWitt that pioneered this combination on disc. Then, in early 1921, the Flanagan Brothers, with Joe on accordion and Mike on banjo, recorded the first of what would be well over 100 remarkable, popular sides featuring the two instruments. It continued in the late 1940s/early 1950s, when the great Joe Derrane and his brother George recorded some wonderful accordion-banjo tracks with the "Irish All Stars." In the late 1970s, legends Barney McKenna and Tony MacMahon proved it an excellent pairing on the "The Green Linnet" TV series. These are but a few specific examples, but there are many other important ones that come to mind, like Joe Cooley and Des Mulkere, Liam Farrell and Raymond Roland, and Johnny Og Connolly and Brian McGrath, all of whom have proven time and again how well these two instruments fit together.
And now there is button accordionist Dan Brouder & banjoist Angelina Carberry, who have recently released "A Waltz for Joy: Irish Music on Box and Banjo." A brilliantly executed album, "A Waltz for Joy" catches both musicians in excellent form. But because they get so much subtlety and nuance from a pair of instruments that aren't always synonymous with those words, I think their work here not only stands tall with any of the banjo/box combinations mentioned above, it represents a special contribution to the banjo/box lineage.
Brouder's playing here is relaxed and confident. He doesn't seem to be trying to do too much; rather, he seems to be about the ensemble work, letting the instrument's tendency for long, sustained notes hold up his end of things. To this, Carberry brings lovely phrasing and ornamentation accentuated by the thick, punchy tone she pulls from her banjo. This combination results in richly textured, weighty music that is nonetheless light on its feet and never feels like it's off to the races. Standout tracks include "The Battle of Dunboy / …," "The Kerry Reel / …," "McCarthy's / …," and "Glenmorgan House / …" (on which Carberry plays tenor guitar). Listeners, I feel, will be especially drawn to "A Waltz for Joy / …" as well.
The album features a great selection of tunes overall. In addition to the jigs and reels (which account for a little over half the album's music), there are three tracks of hornpipes, some hop jigs, and a few waltzes. The tunes themselves are a mixture of old and new. Some come from the likes of Connie O'Connell, Charlie Lennon, Tommy Peoples, and Finbarr Dwyer, while several others are sourced from "Tunes of the Munster Pipers, Vol. 2," the recently published book of tunes that Canon James Goodman collected in the 1860s. It's an interesting assortment that trends away from the all too familiar.
Joining Brouder and Carberry at various points on the album are a number of outstanding guest musicians, including Brian McGrath (piano), Johnny McDonagh (bodhrán), John Blake (guitar), Brian Mooney and Ruairi McGorman (bouzouki), all of whom make outstanding contributions. Siri Snortheim (cello) and James Blenderhassed (bass) join Brouder and Carberry on "A Waltz for Joy / …" and add lovely, unusual texture that fits perfectly.
In the album's liner notes, the Cork fiddler and composer Connie O'Connell calls this album "one of the best banjo and accordion duet recordings of all time" and I wholeheartedly agree. It projects a spirit of pure-droppedness that makes it an easy album to listen to and enjoy and one that will richly reward the time spent listening to it. "A Waltz for Joy" is a very special album, indeed. Highly recommended. - Daniel Neely March 30, 2017
REVIEW: Dan Brouder & Angelina Carberry - 'A Waltz for Joy'
In their first duet recording together, Dan Brouder and Angelina Carberry display their wonderfully melodic style and taste for something a bit different.
A Waltz for Joy is the first duet album from accordion player Dan Brouder and banjo player Angelina Carberry, having firmly established their reputations for producing quality music in solo and other collaborative efforts. Both musicians are highly respected in their own right, often being regarded as 'musician's musicians'. This is mainly due to their ability to make their individual instruments sing and for playing incredibly melodic tunes and versions of tunes that instantly grab the listener's ear. This is certainly the case on this recording.
Dan and Angelina's playing on this album is impeccable with a peculiar familiarity that acts like a comfort blanket for the tunes that they play. They sound completely at ease and this carries across to the listener. Dan and Angelina play with a subtlety that brings a natural feel to the combination of accordion and banjo (Angelina also plays tenor guitar on the album). Their playing is almost nonchalant without being arrogant and it is clear that not only is there a great respect for each other's playing but for the tunes themselves. For them the tunes are king and their playing style allows them to shine through. That isn't to say their playing is restrained however. You get a sense that they are completely absorbed in each set and revel in painting a distinct and colourful picture of each tune.
The tunes themselves are strong and give an indication of the work that has gone into putting this album together. Opening jigs 'Tatter Jack, The Reaper & The Aina', set the tone for the rest of the album with the majority of tracks comprising of jigs and reels. Don't be fooled however, as these tunes are quite varied featuring compositions by Connie O'Connell, Charlie Lennon, Finbarr Dwyer and others, and other tunes that lean toward the unfamiliar, 'The Fairy Jig/...' being a prime example. The album also has hornpipes, hop jigs and waltzes. Stand out tracks include 'Glanmorgan House/...', 'The Battle of Dunboy/...', 'The Kerry Reel/...' and 'A Waltz for Joy/...', a track on which Dan and Angelina are accompanied wonderfully by Siri Snortheim on cello and James Blenerhasset on bass. Their transcendental style of accompaniment fits perfectly with the tunes and is a great example of Dan and Angelina's taste for something different which is a running theme throughout the album, from the tunes to the accompaniment.
Also joining them on the album are some of Ireland's best accompanists (and melody players in their own right): Brian McGrath (piano), John Blake (guitar), Brian Mooney (bouzouki), Ruairi McGorman (Greek bouzouki) and Johnny McDonagh (bodhran). Backing is of the highest quality, giving the tracks real depth, but on occasion this threatens to swallow the melody in the mix. This, however, is my only gripe. The combination of Mooney and McGorman on bouzouki and Greek bouzouki respectively, proves surprisingly effective on 'Glanmorgan House/...' and 'The Battle of Dunboy/...', providing a colourful backdrop to the melody. I would have loved to have heard more of this.
This is an excellent recording showing two great musicians in their prime. The Flanagan Brothers made numerous recordings of accordion and banjo throughout the 1920s and Dan and Angelina carry on this tradition. They give the instruments a sweetness of sound that would not automatically be associated with accordion and banjo duets, while at the same time injecting something different into the pairing.- rawbar - online irish music magazine
Dan Brouder & Angelina Carberry "A Waltz for Joy" Own Label, 2017
Button box and banjo: no surprises here, just good old-fashioned tunes from a very talented duo with tradition in their blood. Dan Brouder from West Limerick has immersed himself in Sliabh Luachra music for decades, supplementing his native tradition, while Angelina Carberry comes from a long line of Longford musicians but her musical inclinations lean south and west towards the mouth of the Shannon. Her jaunty banjo style fits well with the jigs and hornpipes here, and even the reels have a swagger to them: The Pigeon on the Gate, McFadden's Own, Michael Gorman's, Touch Her If You Dare and other old favourites. No slides or polkas though: maybe next time.
Several melodies here are taken from the recently publish second volume of Tunes of the Munster Pipers, with catchy titles such as Hornpipe 534 - soon to be a Hollywood movie in which Aidan Turner and Lewis MacDougall save Ireland by stealing nuclear bagpipes from North Korea, rewriting American history in the process. But enough of that: Angelina and Dan have also chosen many newly-composed tunes, by Connie O'Connell, Noel Strange, Charlie Lennon, Finbarr Dwyer, Richie Dwyer and others. The title track is part of a whole rake of waltzes written by singer Nan Tom Taimín De Burca from Connemara, all pleasant and melodic. Alice's Reel by Frankie Gavin is slotted after a darker pair of slip jigs from the playing of Michael Gorman and Tommy Potts, and followed by a typically complex reel from Finbarr Dwyer.
Brouder and Carberry stay sure-footed through all these changes of style and tempo, from a fresh take on East of Glendart to a couple of different versions of The Blackbird. They finish this album with a set of Dwyer reels starting with Finbarr's unique interpretation of The Scholar, seemingly relaxed and never rushing. A Waltz for Joy is full of great music played warmly and with feeling, not as flashy as some but all the more welcoming, with a shared understanding between box and banjo, and fine accompaniment from some of the best backing musicians in Ireland.
- © Alex Monaghan | FolkWorld
DAN BROUDER & ANGELINA CARBERRY - WALTZING FOR JOY. - Eilen McCabe | rish Music Magazine November 2017
A great recording and magnificent music in a pure traditional vein, this will be widely greeted and marked as one of the best debut albums of years. The style is forever richly fulfilling, the rhythm so excitingly lively throughout the playing of the carefully though-out selections on this album. In fact the whole recording seems to have worked out entirely to plan with excellent accompaniment and well measured number of guests adding to the variety and to the wonderful box playing of Dan Brouder, who hails from Monagee, Newcastle west, Co. Limerick. While loyal to the traditional background of his native west limerik Dan not only plays the box with some effortless creativity but puts his authentic Bruadar lineage beyond a shadow of a doubt with his own compositional flair. Sea go deimhin! Flor – oidhre ar a fhear gaoil, an file cliuiteach agus maistir oilte deire an dain dhirigh, Daithi O Bruadair. Comhghairdeachas o chroi leat a Dan agus maire tu aois do dhuine muinteartha le neart eile de short an albaim alainn seo a chur ar fail duinn go leir. - Meaití Jo Shéamais
People who bought this item also bought