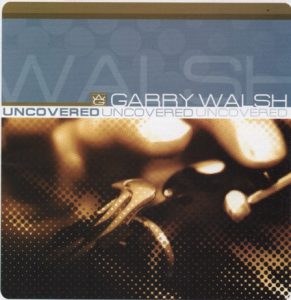 We are delighted to announce the re-release of
GARRY WALSH: UNCOVERED
osscd134
Guest Musicians: Clare Fitzpatrick - fiddle
Johnny Neville: guitar
Dave Hennessy: Melodeon
Colm Murphy: Bodhran, percussion
Lisa De Ziah: Cello
Garry Walsh was brought up in Manchester after his parents had emigrated there. His family brought with them a wealth of Traditional Irish music, from Co Louth and Co Cork and while forgotten here, they have survived through them. Both his great grandfathers, grandfathers and father played traditional music, and so comes from a good pedigree of traditional musicians.
Now home in Ireland, Garry has at last made his debut album - 'Uncovered'. The album title by its very nature is justly symbolic.The album contains some of the old music from Co Cork and Co Louth, learned from Garry's parents over the years.
These tunes were rarely played in sessions because very few musicians knew any of them. When the traditional Irish music archive confirmed that they didn't have them on record, it made the project even more exciting.
the majority of these tunes have never been recorded before.

most of the tunes are rare and forgotten, the majority previously existing only within the confines of Garry's family.

presents a newly discovered flute player accompanied by some of the most respected players currently on the traditional scene
Audio
Track 2: The Cross Legged Tailor
Track 5: Cogar Na Gaoithe
Track 6: Thugamar Fein An Samhradh
Track Listing
The Road to Naul/Laughing Molly

The Cross Legged Tailor/Under The Tholsel/Eileen Fahy's

Waiting For Me/Out The Buttergate

Around Lough Ine

The Travelling Lamp/Cogar Na Gaoithe

Thugamar Fein An Samhradh Linn/Casey's

Narrow West Street/Butterley's Boat

(Robbie's Welcome)/The Windy Harbour

Back To Skibbereen/The Road to Cork

Ciara's Reel/Ciaran Jennings

Gan Ainm/Here's To Temperance/The Barrel of Monkeys

(Felix Doran's)/Mother Hughes's Goose
Press Reviews
Irish Examiner

GIVEN that he is relatively unknown on the Cork traditional music scene, one might imagine that Garry Walsh emerged fully formed from the West Cork mist.
The reality is that he went through the usual musical apprenticeship, though much of it was served in Manchester, where he began playing whistle at the age of 10 under his father's guidance.
His grandfathers - John Walsh of Drogheda and John Joe Fahy of Skibbereen - are the sources for most of the tunes heard here; there was music on both sides back through the generations.
Now back in Ireland and living in Timoleague, Co Cork, Walsh gives an interesting insight into a tradition learned outside what is considered the mainstream.
The success of Uncovered, his debut album, rests squarely on the tunes themselves. These are family heirlooms. and are rarely heard nowadays.
Generally speaking, if a tune isn't played. there is a good reason. The common repertoire is a vast democracy where tunes that survive do so as the result of a continuous filtration system. and tunes that fall from favour usually deserve their fate.
Not so in the case of this intriguing collection. where each tune, while comfortingly familiar. has its own character.
Walsh has gathered a good backup team around him. Dave Hennessy brings his melodeon swing to the party; the crisp bodhran of Colm Murphy underpins many of the tracks; Johnny Nevile's guitar is a rhythmic and harmonic anchor; Clare Fitzpatrick's fiddle shares the melody duties; and Ilsa de Ziah's cello occasionally fills out the lower end of the frequency spectrum.
The Road to Naul opens bright and bouncy, switching seamlessly into Laughing Molly.
There's effortless technique and great-life in the set of reels The Cross Legged Tailor/Under the Tholsel/Eileen Fahy's.  And so it goes, track after track. and they get better on each listening. Pat Ahern
Irish Music Magazine

The Cork Folk Festival often throws up some unexpected surprises. This year was one such time and Garry Walsh is the surprise in Question. A returned emigrant now resettled in Cork after spending many years in England, this flautist and whistler's debut album Uncovered literally uncovers a well of tunes previously untapped.
Hearing much of his music from within the family circle with links in Cork and Drogheda, his is a rich legacy reflected in the diversity of his repertoire. The Cross Legged Tailor Iearned from his grandfather from Skibbereen and Eileen Faheys' composed by the same grandfather to commomerate the birth of Garry's mother offers a case in point.
Garry's own compositional bent is reflected in The Travelling Lamp. The tunes are solid lively and
robust affairs and are neatly accompanied by John Neville, Colm Murphy, Claire Fitzpatrick and Dave Hennessy.
Uncovered is an album that salutes a great family musical tradition and unveils some hidden gems in the process and Gary Walsh's playing marks him as an important new contender. Investigate.  John O'Regan