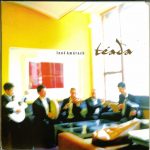 Teada:
Inne Amarach (Yesterday, Tomorrow)
Oisin Mac Diarmada, from Sligo – fiddle/vocals
Paul Finn, from Laois – accordion
Damien Stenson, from Sligo – flute/whistle
Sean McElwain, from Monaghan – guitar/bouzouki
Tristan Rosenstock, from Dublin - bodhrán (Irish drum)
We have been listening to this brilliant CD for several weeks and have decided to carry it on Copperplate. The playing is peerless and includes several rare tunes. It was originally released 10 years ago, but seems to have got lost in the Celtic Mist which was prevalent back then. Hope fully this will  lead to a re-assessment of Teada and this wonderful CD. Just listen, we're sure you will agree!
Irish quintet, Teada return with their third album, one which will surely see them climb the ladder to the top. Wonderful tunes, played brilliantly with always interesting arrangements, what more could we ask for?
Teada interprets musical material from as far back as the 18th century to rhythmically diverse traditional tunes on a more modern origin. Encompassing the interaction of music past and present within the context of a contemporary group.
Featuring several of Ireland's finest young soloists, in Oisin MacDiarmada, Teada have a fiddler who will make his mark on Irish trad music, a master at his instrument.
The CD is accompanied by a free DVD documentary which seeks to explore one of Teada's key influences, the rich musical culture of the Sligo region.
"Teada served notice that the top their of Irish traditional groups such as Altan, Lunasa and Danu will now have to make room for Teada", Earle Hitchner, The Irish Echo / Wall Street Journal
In just three short years, Téada has exploded onto the international touring circuit, capturing the imagination of many with a creative and spontaneous musical approach, seeking to capture the intricacies of traditional art form within a contemporary band context.
Having first come to attention through an appearance on the innovative Irish television series, Flosc, in 2001, Téada went on to undertake highly successful tours of the United States, Finland and Germany throughout their initial two years as a band.
The following year, 2003, saw audiences hearing for the first time, an expanded 5-member line-up featuring accordionist Paul Finn from Laois. The re-release of Téada's debut album worldwide later in the year by US label, Green Linnet,
saw the band being awarded the prestigious "Best Traditional Newcomers 2003" award from Irish Music Magazine.
2004 has already brought extensive touring activity throughout Ireland, the United States, Canada, Austria, Portugal and the United Kingdom, with audiences hearing material from Téada's stunning new album for the first time. After headline performances at all the major US Irish/Celtic festivals over the summer months, and a visit to Germany in October, the band have most recently welcomed Sligo flute-player, Damien Stenson, to the line-up.
Oisin Mac Diarmada, from Sligo – fiddle/vocals
Paul Finn, from Laois – accordion
Damien Stenson, from Sligo – flute/whistle
Sean McElwain, from Monaghan – guitar/bouzouki
Tristan Rosenstock, from Dublin - bodhrán (Irish drum)
Press Quotes
Teada … appears determined to take the Irish Music world by storm.
Genevieve Williams, Dirty Linen (US Folk Magazine), August/September 2004
The band clearly enjoys playing for an audience and knows how to connect with them. For such a young group, this is both remarkable and refreshing.
Earle Hitchner, Irish Echo (US Newspaper), September 2004
Teada are a tight, traditional Irish band with something quite intangible to separate them from the rest, and if there is a better new band on the Emerald Isle, then they must be very, very good.
Mike J. Wilson, Edinburgh Evening News (Scottish Newspaper), April 2003
Also available from Copperplate:
Teada: Their debut CD.
Teada: The Day of the Wren
Oisin MacDiarmada: On The Fiddle
Audio
Track 1: The Horses Leotard
Track 2: The Ebb Tide HP
Track 3: Sarah's Delight
Track Listing
Lady Montgomery/Follow Me Down/Give The Girl Her 4 Pence/Tie The Bonnet
The 10 Penny Piece/Comb Your Hair & Curl It/Larry McDonagh's
Jamsey Gannon's March/McDermott's/Over The Moor To Peggy
I Have A Yellow Goat/The Shelf
Nora Criona
Delia Keane's/The Horses Leotard/Sean Bui/The Dawn Chorus
The Ebb Tide/Peter Wyper's HP
Sarah's Delight/Paddy Sean Nancy's/The Ireland We Knew/The Ewe Reel
Planxty Crilly/Micho Russell's/Mickey Callaghan's
Port Aitheanais na gCalpini/Johnny's So Long At The Fair
Bonnie Anne/John Kelly's/The Boy In The Boat
Téada performing at Tg4 Gradam Ceoil 2006
Lady Montgomery/Follow Me Down/Give The Girl Her 4 Pence/Tie The Bonnet
Press Reviews
The Irish Post
Irish Music
Teada
Inne Amarach
CEFCD 188
IF MUSIC can be said to have an accent, then Teada's tongue is unashamedly coloured by the shadows of Ben Bulben.
Sligo's subtle flute and fiddle inflections are at the heart of the band's sound, and on their third CD (Inne Amarach) they've reached their majority, with a lateral-thinking repertoire that fearlessly collides and sensually shimmies, as the tunes dictate — in all the right places.
Teada thrives on the wedding of unlikely bedfellows of tunes, so that tempo, pace and sheer verve is as unpredictable as a warm front in hurricane season. Their marriage of a march, barndance and reel on the set book ended by Jamesy Gannon's and Over the Moor to Peggy reflects an appetite for shaking it up yet their disciplined playing and
complex arrangements whisper of a comfort with both creative flair and academic precision.
Oisin MacDiarmada's fiddle and Damien Stenson's flute flutter and hush alongside one another, each instrument tiptoeing in and out of the tunes with an unhurried agility. There's a drawing-room grandeur to their haughty arrangement of the Delia Keane jig set, with Charlie Lennon's The Dawn Chorus lending a pensive close to a superb piece of ensemble playing, with bodhran, box and guitar stitched into the tunes' fabric with the precision of a Parisian couturier.
Irish quintet Teada interprets musical material from as far back as the 18th century to rhythmically diverse traditional tunes of more modern origin. Encompassing the interaction of music past and present within the context of a contemporary group, the album is accompanied by a DVD documentary that seeks to explore one of Teada's key influences, the rich musical culture of the Sligo region.
Teada has served notice that the top tier of Irish traditional groups such as Altan, Lunasa, and Danu will now have to make room for them.
Joe Mularkey
People who bought this item also bought