CopperPlate Distribution
68 Belleville Road, London SW11 6PP, UK
Tel/Fax: +44 (0)20 7585 0357
email:copperplate68@gmail.com
Please feel free to send us feedback – whether plaudits or brickbats! In particular any ideas or advice you may have to offer on getting the word out about this site (e.g. via newsgroups, links etc.)  would be greatly appreciated.

---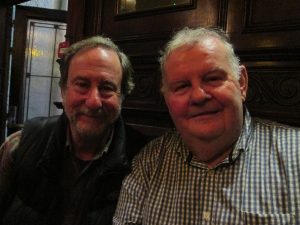 Copperplate podcast buddy Joe McDonagh from Hawaii,
we met up at the All Ireland Fleadh in Ennis, Co Clare last month.
Don't forget you can access the podcast by clicking on the link on the right of page